Proximity based information looks to be gaining prominence again with Apple's iBeacons taking the lead and now followed by Eddystone, by Google.
Eddystone is an open source Bluetooth Low Energy (BLE) beacon format, launched by Google at the start of July 2015, which will allow developers to work with beacons to provide better contextual experiences to smartphone users via location-based content. Google is also offering the Nearby API and Proximity Beacon API to help developers transmit data to devices in range of specific beacons and monitor beacons to make sure they are functioning.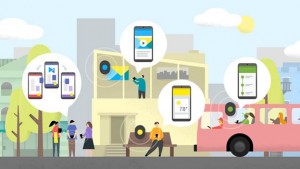 Google has also updated its Chrome browser to add support for Physical Web which will be powered by the new EddyStone capable beacons and the APIs.
Eddystone provides three different advertising packets:
Eddystone-UID: Eddystone-UID contains an identifier of a beacon. This is the same as the packet broadcast by Apple's iBeacon, which has a specific ID to trigger actions in your app.
Eddystone-URL: Eddystone-URL packet contains a single field: URL. The size of the field depends on the length of the URL. The Eddystone-URL packet ties directly into the concept of Physical Web. This is quite powerful compared to the UID used by iBeacon as it allows the beacons to trigger action directly into a browser.
Eddystone-TLM (Telemetry): Eddystone-TLM packet is designed to be broadcast by the beacon alongside the "data" packets (i.e., UID and/or URL) for the purposes of beacon fleet management. Using this packet, apps designed to use this data can help monitor beacon deployments in terms of battery, temperature, humidity, etc.
One of the great things about Eddystone is that it is compatible with both Android and iOS, along with any platform that supports Bluetooth LE beacons.
Alongside the Eddystone beacon format, Google has also announced the Nearby API and Proximity Beacon API.
The Proximity Beacon API can be used to register and manage a fleet of beacons.
The Proximity Beacon API is a cloud service that allows you to manage data associated with your BLE beacons using a REST interface.
The Nearby API can be used by applications to interact with this fleet of beacons. Nearby uses a combination of Bluetooth, Wi-Fi, and inaudible sound utilizing your speaker and microphone to determine proximity to another device. Nearby functions through a proximity API, named Nearby Messages, that developers can use to integrate the functionality with their apps.
Some examples of real world uses of beacons could be using Eddystone-URL packets to guide users to specific information on the web based their proximity to a beacon, gain access to payment services directly without the use of a specific app, using Eddystone-TLM to determine series of data in a temperature controlled area, and so on.
Given the increasing interest in beacons across all industries, we are coming into a very thrilling period where we should see several exciting new projects being launched to use beacons to add more context to the real world.