Great customer service is one of the biggest assets a brand can have today.
Messaging apps and channels are the easiest way to support this. Using WhatsApp for Business, organisations can extend their customer-centric conversations one a messaging app loved and trusted by customers across the world.
It is not just WhatsApp that is disrupting the way in which businesses offer support. Today, customers also are leaning towards messaging apps and bots to reach out to brands.
WhatsApp has become the leading messaging app globally due to its low-cost, easy-to-use interface and ability to integrate with any kind of business software.
Get the world's most powerful messaging app to fuel your customer service operations! Contact us.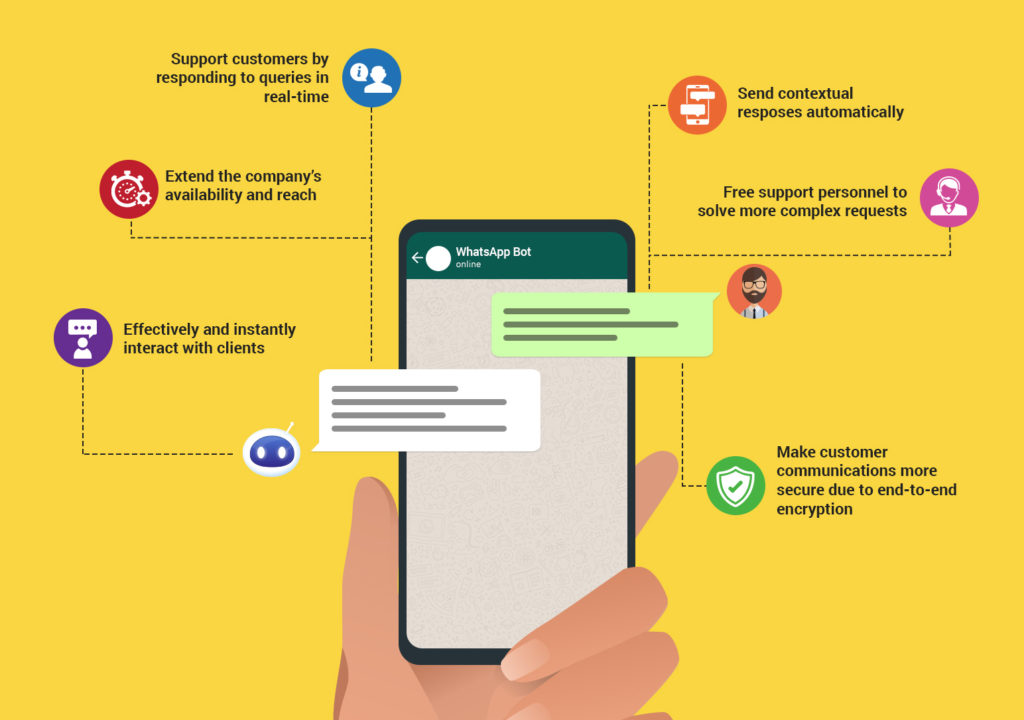 Reson8 WhatsApp Bot
WhatsApp Business API can be seamlessly integrated into your businesses communication strategy. Reson8 has integrated its bot with WhatsApp to create the Reson8 WhatsApp Bot!
Reson8 WhatsApp Bot works 24/7 to provide support, guidance and information to your customers anywhere and at any time.
Connect with customers on their preferred messaging app to keep them engaged. Create conversational experiences to drive loyalty.
WhatsApp Business provides customers and enterprises with an unmatched level of convenience which cannot be achieved via any other platform.
Business WhatsApp for Customer Support – A Game Changer
Providing customer support through WhatsApp can help provide information and assist customers as and when required, meaningfully engage with customers even when your customer support is busy or not available and help in generating new leads!
Other than the fact that WhatsApp has an enormous global presence along with a huge customer base, here are a few reasons why your business or enterprise should use it to provide excellent customer support:
1. WhatsApp can be used in any business sphere like the retail, banking and airline industry to send customers booking confirmations, purchase confirmations, delivery notifications, appointment reminders, transactional details and much more.
2. Businesses can integrate their CRM systems with WhatsApp to resolve customer issues, track problem resolutions and enrich the customer experience.
3. Customers can reach out to the business at any time from anywhere and do not have to search for other support options.
4. WhatsApp's end-to-end encryption ensures the data is secure and the conversation remains private. This type of privacy is not offered on other channels of communication like email, phone calls or social media.
5. Manage conversations at scale by integrating with Reson8's Business WhatsApp API. Reson8 enables your business to overcome technological and geographical barriers to communicate with your customers using a single, powerful platform.
6. Use WhatsApp to provide customer service to significantly lower costs at call centres while still providing a great customer experience.
Be hyper-productive with WhatsApp! Contact us to learn more.
Get Started!
Gain a competitive advantage with Reson8 and pave your path to success.
Get in touch with us to understand how you can leverage the power of WhatsApp to help your business excel.