Reson8 is a state-of-art digital engagement platform to get the most efficient results from your marketing activities.
Reson8 is an omni-channel communication platform that integrates SMS, chatbots, E-mail to SMS, push notifications and proximity based Wi-Fi channels to create seamless customer journeys. Our well documented and comprehensive API helps you quickly build and launch your enhanced customer and employee communications by using parameters for personalization, time bound, multi-lingual support.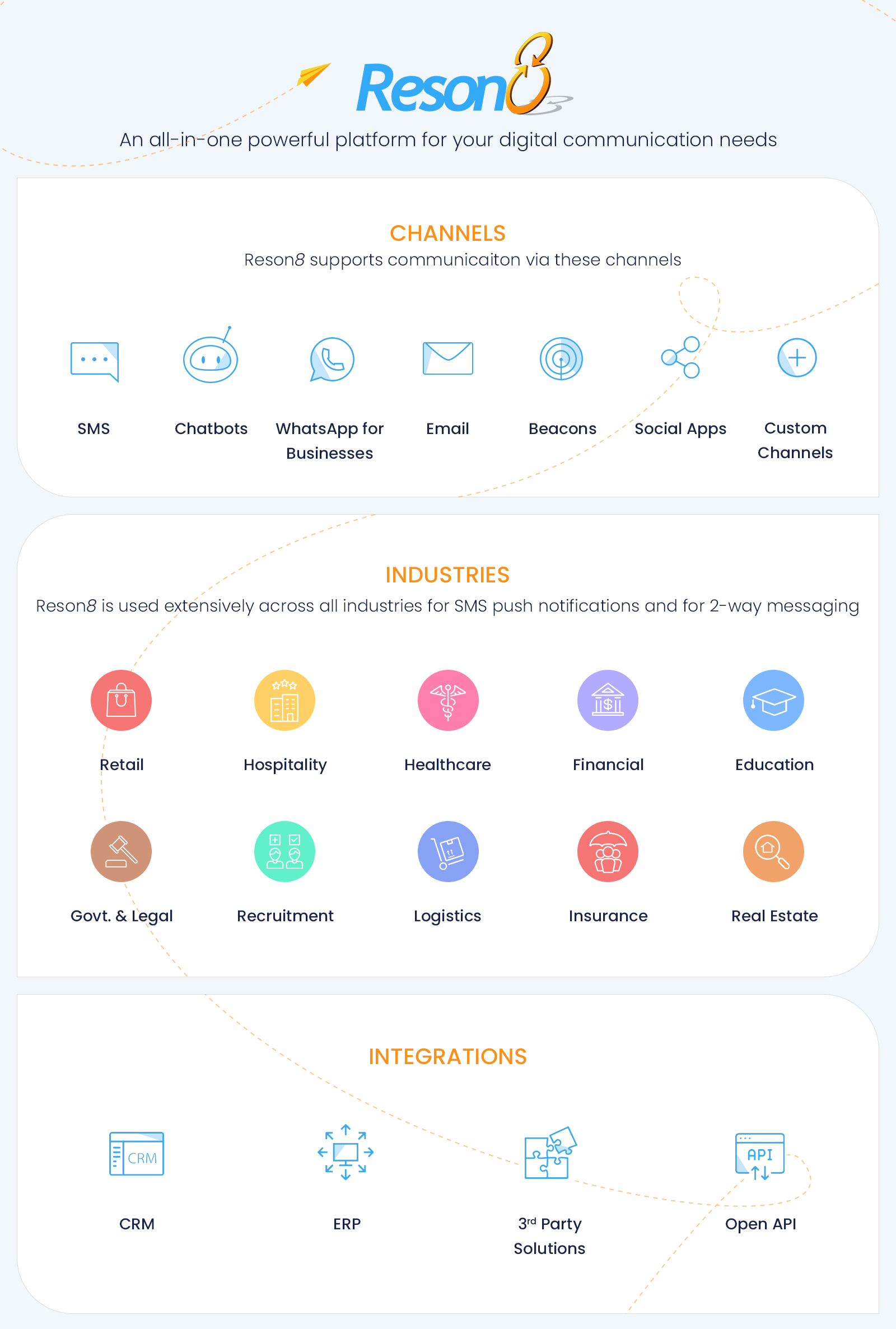 The Reson8 Marketing Platform contains all the essential elements required to create and track a seamless and integrated customer journey across multiple platforms. Reson8 enables you to easily engage with your customers by helping you create a consistent communication schedule to improve your brand's engagement.
Connect and interact with your customers to deliver personalized messages and enhance your customer service with artificial intelligence solutions like the chatbot integrations.
With Reson8 you can effortlessly serve all segments in an effective way. It helps you to target the right consumer at the right time using the most appropriate media channel. Reson8 is a reliable, secure platform to prevent fraudulent activities, especially in the banking and finance sectors. Financial institutions and banks have integrated their systems like Fusion Phoenix and Oracle with Reson8 to improve their efficiency and customer satisfaction levels.
Use bulk SMS, targeted SMS or marketing SMS campaigns to inform your customers about your new campaigns or exclusive offers that may interest them. Reson8 can be used to create profitable, successful e-marketing campaigns to boost your sales. Whether your aim is to secure new customers at low costs or establish and maintain customer loyalty for your existing customers, Reson8 is the best solution for you.
We are also now providing Business WhatsApp Services. Engage with your customers on the world's most popular messaging app and automate your replies with Reson8 Bot. We would love to work with you on a POC (proof of concept) and provide you with a quick demo.
With its flexible infrastructure, Reson8 allows for an easy and hassle-free integration with all of your systems including your websites, CRM, ERP, and other various platforms or custom applications.
Reson8 makes integrated customer relationship management interactive, fun and easy.
Since 2000, 500+ satisfied clients from all around the world have relied on the efficiency, accuracy, reliability and excellent performance of Reson8. Each month over 6 million SMS messages are delivered successfully, proving the effectiveness and profitability of using Reson8 for digital marketing communications.
Contact us to learn how you can get the best out of your digital marketing activities with Reson8!