Processing of standard business documents such as purchase orders, invoices, delivery notes and RMAs (Return Merchandise Authorization) is one of the most time-consuming and financially critical activities for companies. As a business grows, the volume of these documents also grows and makes the job of the finance and operations teams more difficult and increases the possibility of errors and customer dissatisfaction.
Automated document processing using document scanning, OCR (Optical Character Recognition), and automated filling, helps in reducing the steps in manual workflows and helps to increase process automation. The data extracted from these documents are classified as unstructured data; which is data that is usually not ordered or labelled making it difficult for software to parse or classify it for automated processing. This limitation is a major bottleneck in many RPA (Robotic Process Automation) solutions which increase the dependence on manual actions to properly complete the tasks of document classification and data processing. At the final stage of correctly processing this data, a large number of RPA solutions rely on humans to sort through unstructured data and input it into the correct fields in the system so that the documents can be properly classified and processed.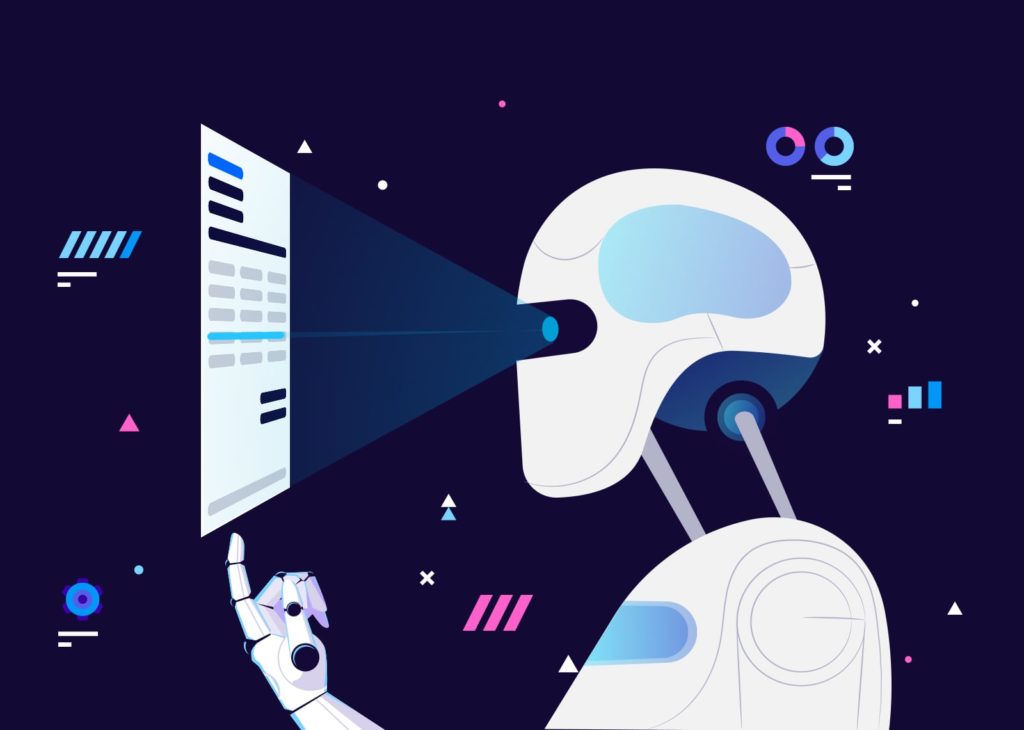 Cognitive Automation
The next step in the evolution to support the process of document processing automation is Cognitive Automation, which can be a major enhancement in the automation journey, allowing document processing and data processing solutions to leverage AI technology to automate tasks that earlier could only be performed by humans.
Cognitive Automation helps address the routine manual processing of documents like invoices or purchases orders. In large companies invoices, purchase orders, RMAs have to be manually read and interpreted to extract the relevant information required to kick off the payment, selling, delivery or collection process.
Only post this manual extraction of data, the associated workflow processes can be triggered to correctly and smoothly complete the documents processing. With the improved advancements in image recognition and processing, as well as the inclusion of ML (Machine Learning), AI (Artificial Intelligence) techniques, RPA software can now read unstructured documents and provide human-like decision making, without human input.
This dramatically improves the efficiency of automation and can provide substantial new benefits to companies in a diverse range of industries. Using various ML techniques, the document processing engine can be trained to predict parts of the OCR extracted text into relevant fields to help classify, categorize, and validate the diverse types of invoices, purchase orders, payment advice, RMAs, etc. for processing and to help in automatic completion of workflow processes.
Purchase Order Processing
One of the core business activities for any company to address its customers' requirements is to successfully and quickly process incoming purchase orders to smoothen the sales process. Processing purchase orders can be a manually intensive task that consumes valuable time from operational employees whose time can be better used for supporting the sales information and processing. Given that POs can be different for each customer, the complexity increases for the RPA engine to correctly process and extract the important data.
A Cognitive Automation Engine (CAE) can improve the automation of this task when it is trained to differentiate the incoming documents based on originating customers and types of documents. The CAE can help to dynamically recognize the document structure and turn unstructured data into actionable information.
Using readily available OCR technologies, the document images can be scanned, the digital PDFs can be read and advanced AI can extract relevant information to automatically address orders as they are received. Using the CAE the processing of these documents can help in substantially reducing the need for human intervention and improve the speed in which these documents can be processed, thus giving the human workers more time to focus on more complicated problems or augmenting their customer support intelligence.
Continued Learning
For documents that the engine is not able to process or needs additional manual verification, human validators would need to manually verify and update the data to classify the documents for processing. The engine can be tailored to learn from these correction actions made by the human operators to constantly improve the capabilities of the engine.
Conclusion
Using OCR to feed recognized text into the intelligent automation models and applying advanced deep learning and ML to automate the classification of the data to automate routine processes will improve efficiency, effectiveness, accuracy, and consistency.
Our CAE provides the capability for companies to handle repetitive manual document processing tasks through the intelligent automation of processing unstructured documents.
To experience our CAE in SalesWorx contact us to set up a demo.