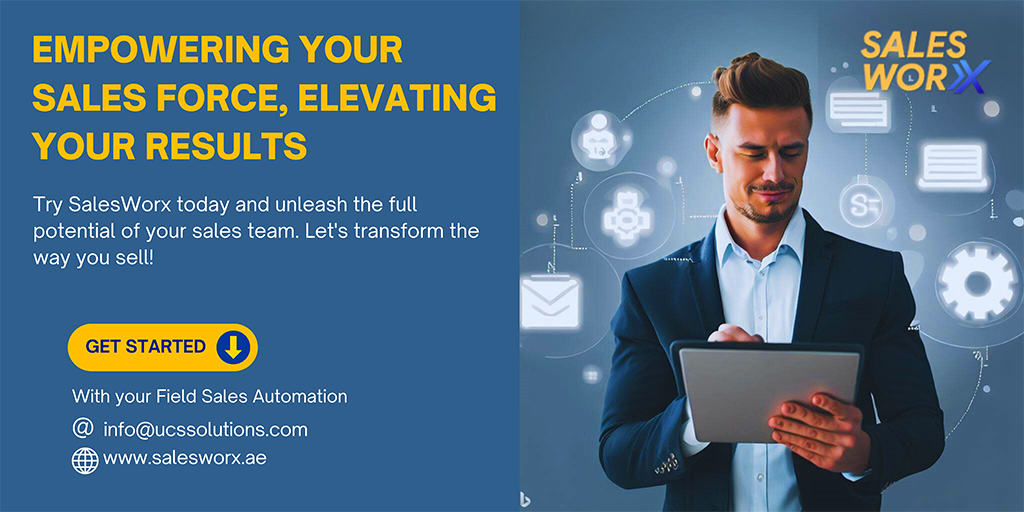 "SalesWorx: Empowering Your Sales Force, Elevating Your Results"
At UCS, we understand that effective field sales operations are crucial for your B2B business success. That's why we've developed a cutting-edge field sales automation application that streamlines your sales processes, enabling your team to achieve unprecedented levels of efficiency, productivity, and revenue growth.
Key Benefits:
Seamless Field Sales Management: SalesWorx empowers your sales force by providing them with a comprehensive platform to manage their activities on the go. From appointment scheduling and route optimization to order processing and customer data insights, our application ensures your sales reps can focus on building relationships and closing deals.
Real-time Data and Analytics: Gain a competitive edge with actionable insights. SalesWorx equips your team with real-time data and analytics, enabling them to make informed decisions on the spot. Access up-to-date sales performance metrics, inventory levels, customer preferences, and market trends to adapt quickly and seize opportunities.
Increased Sales Productivity: Time is money, and SalesWorx helps your sales team make the most of it. By automating repetitive tasks and eliminating manual paperwork, our application frees up valuable selling time. This means more face-to-face interactions with prospects and customers, leading to accelerated sales cycles and increased revenue generation.
Enhanced Customer Experience: Deliver exceptional service that sets you apart. With SalesWorx, your sales reps have instant access to customer histories, preferences, and past interactions, enabling them to tailor their pitches and recommendations accordingly. This personalized approach creates stronger connections and fosters long-term loyalty.
Scalable and Customizable Solution: We understand that every business has unique requirements. SalesWorx is designed to be scalable and customizable, accommodating your specific needs and evolving alongside your organization. Whether you're a small business or an enterprise, our solution adapts to fit your growth trajectory.
Why Choose SalesWorx?
• Proven Success: Our field sales automation application has a track record of delivering exceptional results for B2B companies across diverse industries. Experience the transformative power of streamlined sales processes and data-driven decision-making.
• User-Centric Design: SalesWorx boasts an intuitive and user-friendly interface, ensuring seamless onboarding and minimal training for your sales team. Boost adoption rates and witness immediate benefits from day one.
• Dedicated Support: We believe in partnering with our clients for long-term success. Our dedicated support team is always available to address your questions, offer guidance, and ensure smooth operations with SalesWorx.
Don't miss out on the opportunity to supercharge your field sales operations. Join the ranks of successful businesses already leveraging SalesWorx to empower their sales force, elevate their results, and forge lasting customer relationships.
Try SalesWorx today and unleash the full potential of your sales team. Let's transform the way you sell!"